This week I am not in Jamaica but in Barbados where Haley, Tasha and I are very comfortably settled for the holidays. It is wonderful to see family here
and it is far too long since we have been here together. It has been a week of relaxing, visiting and celebrating Christmas with a difference. There is an easy going comfort amongst the family here and we have been welcomed into their traditional gatherings with warmth. We are staying in a lovely apartment in an old house, Camelot House, that has been renovated. It is on the beach on the south coast with the Caribbean, sunrises and sunsets being the uninterrupted view from the
verandah
.
Barbados has changed since the days of our annual holidays, with greater sophistication and showing off the well cared-for look of Christmas finery. Every street and road is trim and tidy, houses, trees, roundabouts and town squares are festooned with lighted decorations. Traffic is slow moving and polite, there are no grilles on the
verandahs
and balconies and the pace is slower and gentler than Jamaica. It feels as if it has embraced its visitors and treats those if us that come to visit as treasured guests with whom those who live here share generously the beauty and ease of this tiny island country. And those who live here are quietly and
undemonstrably
proud of their island, with a quiet complacency that suggests few think there could be a better place to live.
The variety of topography is different from Jamaica. Barbados is a small island with no mountains but it has glorious coastline and beaches from the
placid and lush west coast where the resorts and private houses dominate to the wild and undeveloped north coast with rocky cliffs and caves carved out by the relentless crashing of the sea. The east coast is the Atlantic with no land between Barbados and Africa. The waves that break onto the east shore have
travelled a long way and the beaches are long and wilder than the south or west coast, with sand-dunes and miles of open space. The south coast,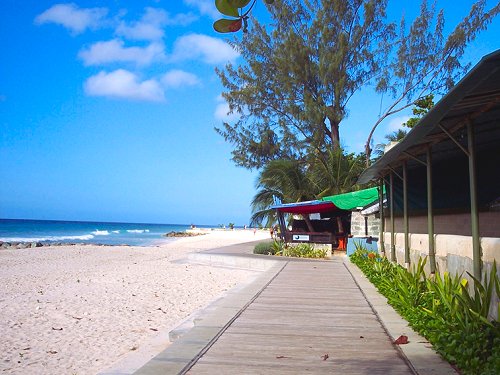 on which we are staying, has a lived-in feel with holiday homes, hotels, residences and businesses sharing the coast and the roads. A cooling breeze reduces the humidity and the beaches and boardwalk provide a lovely environment in which to walk for miles.
As a visitor, even with family here, I realise my view is limited and I am not privy to the depth of understanding that my stay in Jamaica has provided. Unemployment and underemployment plague Barbados as they do many of the islands. The opportunities are limited but with one of the best education systems in the world, and with a literacy rate in the top five, it does provide for its people to take advantage of opportunities that present themselves. As well, Barbados feels to have a comfort with itself and does not seem subject to the highly competitive and aggressive nature of Jamaica. Both history and politics seem to have been kinder to Barbados, with no garrisons (other than that built appropriately for its Defence Force), no Dons and a still largely unarmed police force Barbados is a wonderful island to visit and a lovely place to relax and soak up the sun and the warmth of a gentle Caribbean culture. However, I will return happily to the layers, complexity and challenge of Jamaica where my view includes the Blue Mountains and the Caribbean and where I will usher in the beginning of a new year and all it has to offer.